Real people and social media: PJA Advertising
With all the hype surrounding social media these days, I decided I would find some "real people" using Web 2.0 to improve the way they do business.  Over the next few weeks, I will be interviewing a series of marketers and agency people to better understand what it all means to "the rest of us".
In my first installment, I interviewed Mike O'Toole, Partner and SVP of Strategy at PJA Advertising + Marketing in Cambridge Massachusetts.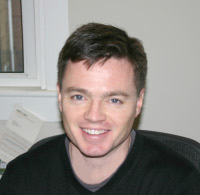 Tangyslice: What marketing trends are affecting your business in 2008?
Mike O'Toole:
A renewed focus on demand generation, based on the shaky economy and declining marketing budgets.
An accelerated emphasis on analytics and accountability.
Online channels moving to the center of marketing spends.
TS: How are people measuring success with social media?
MO: We have a couple of clients who have hired firms (specifically, Nielsen Buzz Metrics and Cymphony, now part of TNS Media Intelligence) who specialize in monitoring and analyzing the social media conversation relevant to their brand and products. These firms combine software and professional services to measure volume and (more interestingly) tonality of blogs, bulletin boards, consumer reviews, etc. We encourage investment in these tools because it gives our clients a finger on the pulse of market opinion, and also gives them an additional yardstick for measuring the success of marketing campaigns (i.e. does a campaign help increase the positive buzz among key audience segments?).
TS: What do you think is over-hyped at the moment?
MO: Social media-as-marketing-strategy is over-hyped. This will sound obvious, but social media is by definition user-generated and user-controlled. Corporate marketing can't exert control, and this makes a lot of marketers nervous. We counsel our clients to be careful, not to mention courageous. The best strategy is to participate in relevant communities and conversation, and to create interesting content that might be share-worthy. And to have appropriate expectations. You will be bashed at times, and measuring the return is tricky at best. It is critical to participate, though.
PJA has done three waves of research with ITToolbox (an online community of more than a million technology professionals), and we have found that social media content and communities are top influences on purchase decisions. And when companies participate in the right way, we have seen their efforts make a real difference in brand and product perceptions.
TS: What do you see as the next big thing online marketing?
MO: Creating moderated, online communities of customers, prospects, and other key influencers. Web 2.0 tools and technologies have made it much easier for companies to tap into virtual audience segments to get feedback about products, customer satisfaction, and brand perceptions. CommuniSpace is a leader in setting up these communities, and is worth checking out.