How to impress your friends: great sources of statistics
I always try to arm myself with primary research when making a presentation or principled argument.  Many times, however, I have to do some searching for that data so it is great when I find a site that does the heavy lifting for me.  Here are some data sources I really like to use: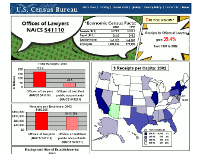 2007 US Economic Census – Your tax dollars underwrite this methodical cataloging of US industries by NAICS codes.  I have frequently found this helpful when market sizing.  Their latest innovation is graphical snapshots by industry in PDF form.
ClickZ Stats – This is a great resource for a variety of online marketing and traffic statistics.
The Direct Marketing Association (DMA) – While the juiciest bits are reserved for DMA members, there are some very interesting research reports available for free.  The paid reports are jammed with more numbers than you could ever need.
Bureau of Labor Statistics – Some of the numbers are depressing in light of our current economic malaise, but this site still contains more great stuff from our friends in Washington.   
National Center for Charitable Statistics – Excellent summary stats of the nonprofit world.  Nonprofit organizations can also get access to the raw data tables.
Any other suggestions?  Please feel free to add as comments.
Thanks
FM Days